Meld Projects is positioned to provide your maintenance operation with visibility through effectively and efficiently processing a turnover with a collection of Melds. The visibility into the project will be provided through overall progress, activity, and, most important, recommended Meld actions to take given a target timeline. Defined by how you operate, Meld Project Templates will help facilitate getting a project started quickly.
This article is intended to provide you with a detailed description of on-screen elements within the Projects view. Additionally, basic functionality and User actions will be highlighted.
NOTE: By default, the Maintenance Role does not have access to Projects. Refer to Creating Custom Roles and Setting Permissions for details on how to grant those permissions.
Navigating to Projects
Step 1:
Click Melds, then click Projects.
NOTE: Refer to Navigating Projects Efficiently for a detailed overview of how to quickly navigate to and from Projects.

Project List
Project List will be the default view when the Projects tab is clicked. This view provides an overview of and insight into each ongoing Project.

Image 1:
Click

Add Project to begin creating a new Project.
NOTE: Refer to Creating a Project for further instruction.
Image 2:
Click this dropdown menu to toggle between Active Projects and Completed Projects.
Image 3:
List of all (active) Projects including some general information on each. The columns are as follows:
Name: The given title of each Project.
Progress: An indicator of how far along each project is. Calculated by dividing the total number of Melds by the number of completed Melds in a single Project.
Melds: The total number of Melds in a Project.
Type: The category of each Project (i.e. Turn, Renovation, Other).
Start/Due Date: Dates that are selected while creating a new Project.
Coordinators: Users selected while creating a new Project. Used to identify responsibility for the Project
Project Details (Summary)
Clicking on any Project from the Project List will default to the Summary tab within the Project Details page. This page provides critical insight into an individual Project, as well as the ability to take action on "Spotlighted" Melds.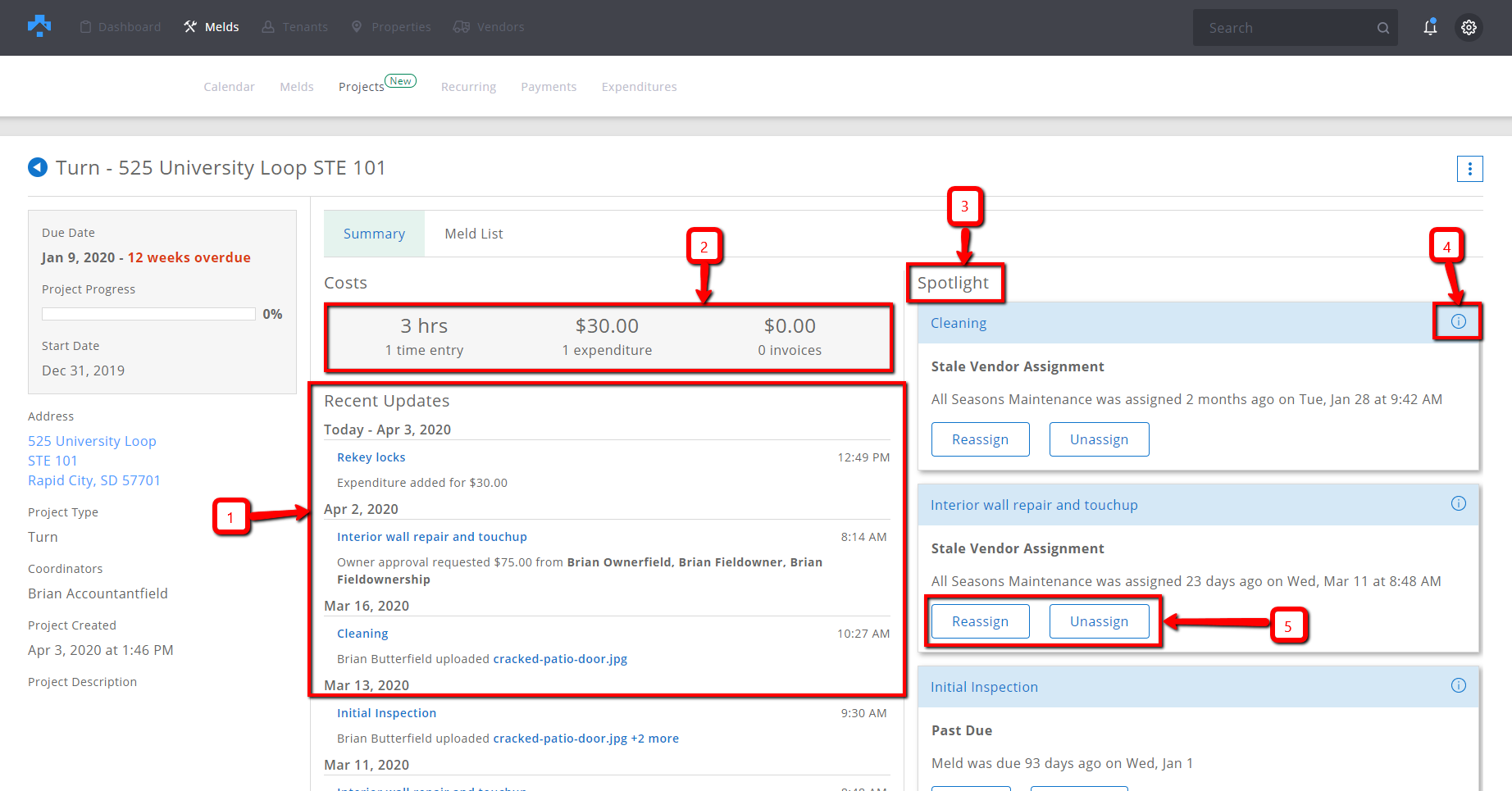 Image 1:
Recent Updates displays a list of the most recent actions taken on Melds within the Project. Here, you can see what action was taken, when the action was taken, and (If the action was 'assigned') who was assigned.
Image 2:
Costs display any hours recorded via Work Log (internal), as well as total costs via Expenditure (internal) and Invoice (external)
Image 3:
Spotlight allows Users to view and take action on pressing or overdue items for Melds within the Project.
Image 4:
Clicking

on a Spotlight item will display the given Melds status and any assigned Tags.
Image 5:
Various buttons will be available within Spotlight items, allowing you to conveniently take action on these Melds without needing to navigate to individual Meld Details pages.
The following conditions will create a Spotlight condition:
Unassigned Meld
Reminder Due (Today)
Overdue Reminder
Meld Due (Today)
Overdue Meld
Stale Vendor Assignment (24 hours)
Stale Owner Approval (24 hours)
Incomplete Work Log ("Check In", no "Check Out")
Appointment Passed and Not Complete
Project Details (Meld List)
The Meld List tab within Project Summary displays more detailed information regarding all Melds within a Project, and allows Users to more easily manage their Melds within a Project.
Image 1:
Click

to perform the following actions on a Project:
Edit Project
Delete Project
Add Meld
Add Existing Meld
Image 2:
Click

Add Meld to create a new Meld to be added to the Project.
Image 3:
Click

to send a chat to the specified Meld.
Image 4:
Click

to manage invoices and expenditures for the Meld.
Image 5:
Click

to remove a Meld from the Project.
Image 6:
The priority of a Meld is indicated by the following:
Low Priority = Green
Medium Priority = Orange
High Priority = Red
Project Details (Files)
The Files tab lists all files associated with the Project, grouped by Meld. The tab also allows typical Meld file management such as uploading and sharing files from this screen.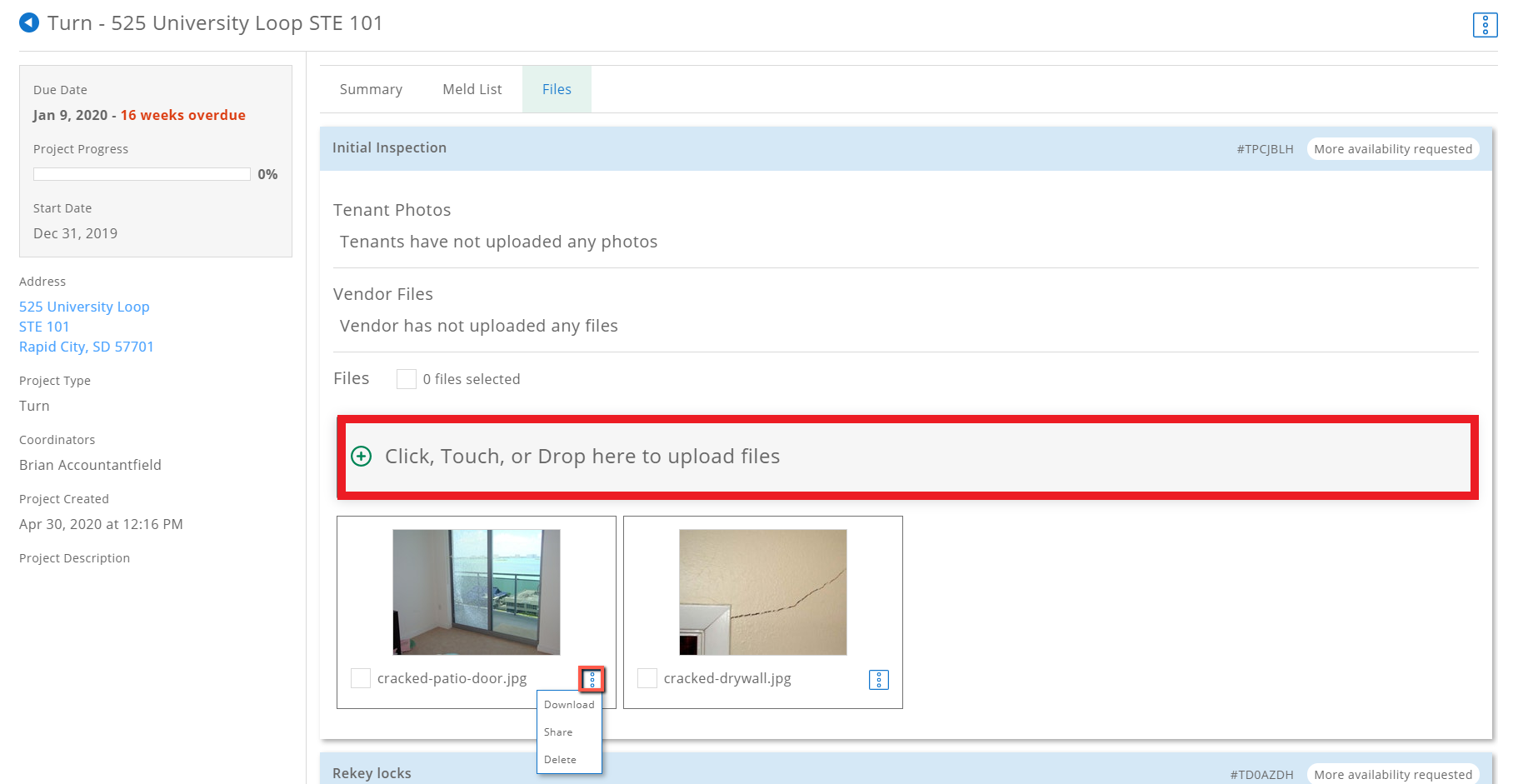 To upload new files to a particular Meld in the Project, click the box entitled Click, Touch, or Drop here to upload files for that Meld.
Click

on a file to Download, Share, or Delete.