As an Owner, you will be notified via email notification when a Meld is Assigned, Scheduled, Completed, or a Message is sent to you by the Property Manager.
This article will provide example messages and the steps to managing your notification preferences via email which include both email and text messages. If you are an owner with Owner Hub access please refer to Account Settings and Notifications in Owner Hub- Owner.
NOTE: Owners can only opt-in to text messaging if the Property Manager has added your mobile number.
NOTE: Owners do not have a Property Meld account and all communication on a Meld is done through email and text messages and replies.
Step 1:
As an Owner, you will receive email messages welcoming you to Property Meld (as shown below) or based on a Meld.
Each of these email notifications provides a Manage your notification preferences here link at the bottom of the message.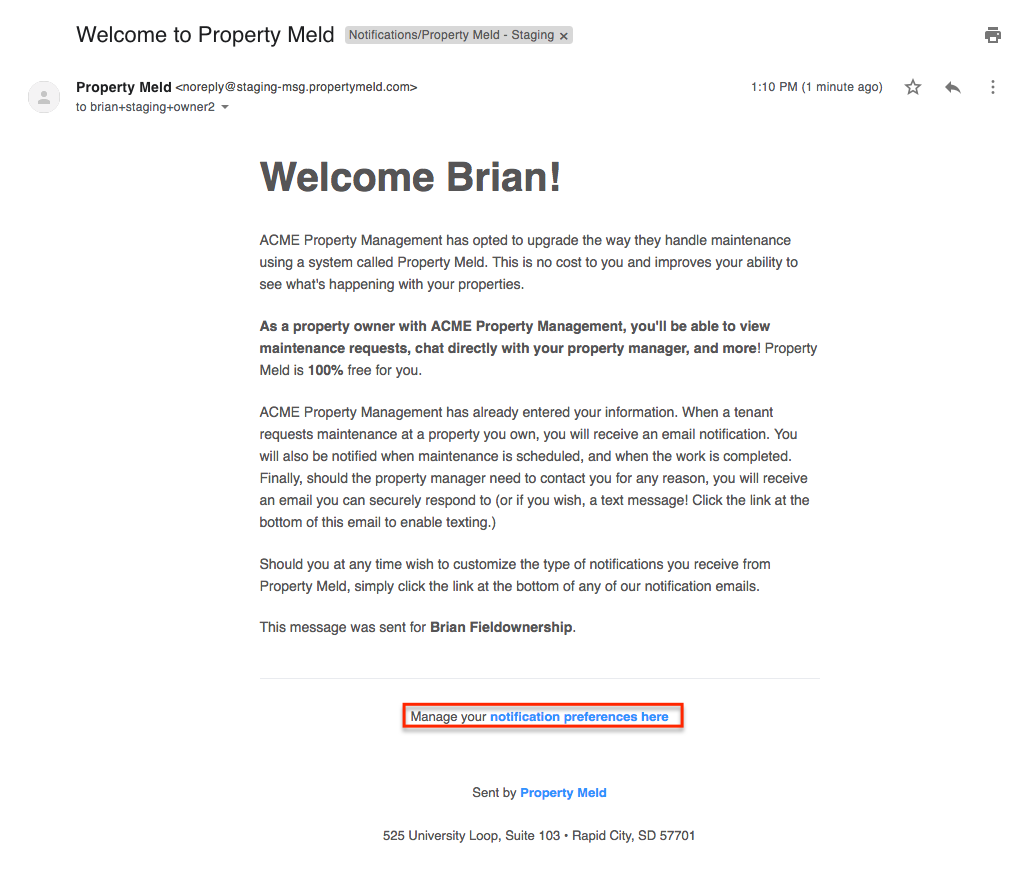 Step 2:
After clicking notification preferences here link from the above screenshot, the link will navigate you to a website where you can manage your Notification Settings.
The option Send my cell phone text notifications is marked No by default.
Click Yes and click SAVE SETTINGS to opt-in to receiving text messages from your Property Manager specific to maintenance requests on your properties.

Step 3:
The following is an example of an email message that you might receive and highlight where you can Manage your notification preferences here link.
Refer to How to Communicate on a Meld for examples of the email and text messages you can expect to receive and how to interact with the notifications to interact with your Property Manager.